Top 7 Most Amazing Kitchens in the World
A setup suited for a celebrity chef, sleek state-of-the-art appliances, and materials so costly they could cover the expense of a full remodel on their own. We're talking about the most elite and expensive kitchens that only a select few have the good fortune of enjoying but that we all like to lust over. Here's our list of what we believe are the seven most amazing kitchens in the world. 
1. Woolworth Tower Kitchens in Manhattan, NY
Kitchens in Woolworth Tower are anything but common. Their impeccably crafted cabinetry blends seamlessly with the walls creating discreet storage that doesn't take away from the room's design. Brilliant stone counter tops offer a luxurious prep space for slicing and dicing and the top of the line Miele ovens are any cooks dream. Sleek Dornbracht fixtures take every need into consideration, making using the sink a pleasure rather than a pain. A full gas-range is accented by a polished and concealed hood that delivers powerful ventilation without the noise or eyesore.
2. Fiore di Cristallo by Claudio Celiberti
When designer Claudio Celiberti revealed his crystal covered $1.6 million kitchen design London was buzzing and an eight-month waiting list formed for access to Celiberti's designers. You're probably wondering what makes a kitchen worth more than most homes two times over? Crystals — and a lot of them. Celiberti's design includes a kitchen island made of solid Murano crystal, cabinets finished with the sparkling glass, and a Swarovski chandelier that puts most light fixtures to shame. Throw in copper walls, custom appliances and a snazzy wine cabinet and your subtotal doesn't seem so shocking.
3. New Kitchen in Leona Helmsley's Renovated Greenwich Estate
If the tales of the Helmsley Estate being haunted aren't enough to deter you, the property's pricey kitchen is pretty fabulous. After the hotel empress passed, the estate was sold for $35 million and received an extensive makeover by the new owners. This facelift included the construction of a breathtaking all-white kitchen with luxury finishes like a marble backsplash, plenty of open space and natural light, and top of the line appliances. The property also features a butler's pantry and separate seating area for staff.
4. Electrolux Grand Cuisine Professional Kitchen by Henrik Otto
This restaurant style kitchen spares no luxury and costs a steep $380,000. Everything you (or your private chef) could want can be found in this elaborate design. Henrik Otto, the brains behind the Electrolux Grand Cuisine, made sure to include the top appliances and technology that typically only exists in five star establishments. Owners will reap benefits such as blast chillers, state of the art ovens, and a computerized control panel to monitor every action.
5. Water Mill Mansion Estate by Mark Stech-Novak
The ultra-modern kitchen in this $58.5 million Hamptons mansion is definitely one of a kind. Created by restaurant consultant Mark Stech-Novak, the room features tons of metal creating a sleek, futuristic feel. Pops of blue accents and hardwood floors soften the vibe a bit, making this extravagant kitchen seem much more welcoming. A great space for entertaining, the Water Mill kitchen certainly has the ability to accommodate more than a few guests.
6. Colosseo Oro by Marazzi Design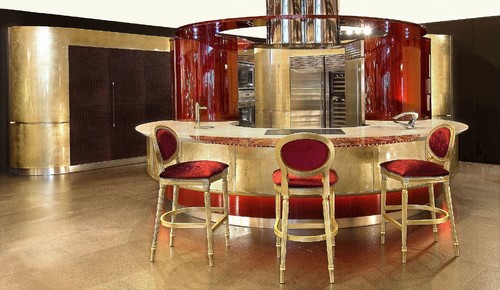 The limited edition, $456,000 Colosseo Oro is a contemporary masterpiece with all the finishing touches you can dream of. Leather elements have crocodile skin embossing and the kitchen features real gold accents. Layers of hand-painted lacquer and dusts of glitter bring this amazing kitchen to the next level of luxury. But the surface showstoppers are not the only details worth noting. The room also includes Swarovski crystal light fixtures and metallic gloss appliances.
7. Steven Klar's Manhattan Penthouse at CitySpire
Real estate developer Steven Klar doesn't cook himself but he does like to host big name chefs and throw lavish dinner parties. For this reason he was sure to have a fully equipped kitchen built in his octagonal shaped Manhattan penthouse that he purchased as a raw space for $4.5 million in 1993. The kitchen is part of the 8,000 square foot, three-story space and has commercial-grade products like a six-burner Russel range that features outdoor ventilations so you can actually barbecue inside. A Scotsman icemaker, two top line Bosch dishwashers, and a set of Sub-zero refrigerators can also be found in this luxury kitchen.